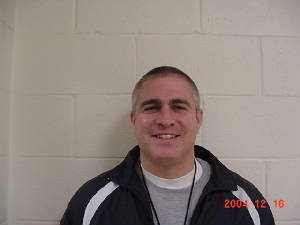 Mike DiStefano joined the Blue Devil coaching staff in November of 2002. This will be DiStefano's seventh consecutive season and tenth overall on the coaching staff. Previously, DiStefano was the Hammonton Blue Devils Head Coach during the 96-97 season and an assistant coach under Tom Attanasi from 1994-1996. DiStefano has also worked as an assistant coach in the Blue Devils girls program from 1997-2001. His first coaching job was as an assistant girls coach at Bishop Eustace Prep during the 92-93 season.
As a player, DiStefano earned 3 varsity letters at St. Augustine Prep. DiStefano was selected as an honorable mention by the Vineland Daily Journal, the Cape-Atlantic League and Parochial B.
DiStefano earned a B.A. in history from Rutgers University and an M.A.T. in Social Studies Education from The College of New Jersey. DiStefano is currently teaching at Hammonton High School. DiStefano (born January 1, 1967) and his wife Jennifer, have two daughters, Alexandra and Isabella.